Tony's Kitchen: Anzac Cookies
Taking a break from conjuring up a batch of delicious cookies, and preparing one of his famous homemade loaves, Tony's has shared some of his recipies with us. This month's recipe and all future recipes can be found on our blog. Bon appétit!
Anzak Cookies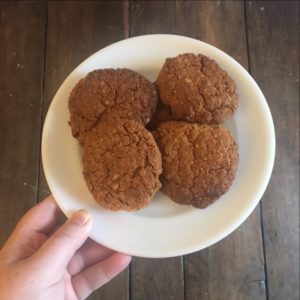 Ingredients
5oz of plain flour
4.5oz of sugar
4oz of oats
3.5oz of desiccated coconut
4oz of butter
1 heaped table spoon of golden syrup
Half a tea spoon of bicarbonate soda
1 table spoon of warm water
Method
Heat the oven to 180C / Gas 7, mix all the dry ingredients together (flour, sugar, oats and coconut). Melt the butter in a saucepan and add the syrup before removing it off the heat. Mix the bicarbonate of soda with the warm water and add to the mixture. Mix both wet and dry ingredients together.
Shape the mixture into golf ball size portions and place on a grease proof lined baking tray. Squash the portions with a spatula or any useful utensil. Make sure there is enough space between the portions. Place the tray on the bottom shelf and bake for 20 minutes.
Enjoy!