Tŷ Newydd Bursaries: Manon Awst
Every year, Tŷ Newydd awards around 20 bursaries to help writers to attend a course at Tŷ Newydd. You can read about our bursary fund and how to apply here. Manon was awarded a Gwynedd Bursary, generously sponsored by Cyngor Gwynedd.
Manon Awst is an artist and researcher at Bangor University. Her aim is to develop a site-writing method in Welsh by reacting to specific sites and landscapes through the art of the cynghanedd. Her main work is creating structures and installations, but writing plays an important part in her creative process. She works from her studio in Twthill, Caernarfon. She tries to write or sketch something in her sketch book every day, and takes her sketchbook everywhere.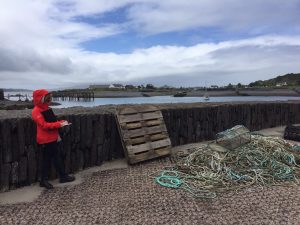 What better way to learn the cynghanedd than attending a week long intense course at Tŷ Newydd in April 2017 with cynghanedd enthusiasts, Eurig Salisbury and Twm Morys. Manon said;
"I wanted to come on the course to learn more about the structure and mechanics of the cynghanedd, as it has always intrigued me. As part of my research work, I'm trying to develop a site-writing form in Welsh, by reacting to specific sites and landscape through writing. I think the cynghanedd is an exciting and profound way of creating a creative Welsh landscape.
The course was amazing – a challenge, but a lot of fun – and I'm definitely going to try and attend again next year. When I arrived, I didn't know anything at all about the cynghanedd, and by the end I managed to write an englyn and some couplets – both of which were correct! The course has introduced me to a network of poets who are passionate about our language and about cynganeddu, therefore I feel that I have plenty of support around me as well as individuals who I can turn to for advice.
Being in such a wonderful setting was a great help for creativeness and positivity. I've been writing a few lines each day since the course. I would definitely recommend the course to anyone who really wishes to learn about cynganeddu."
Following the course, Manon now writes a cynghanedd each day.
To learn more about Manon, read her answers to our quick questionnaire:
How did you come across Tŷ Newydd? Is this your first visit?
I'd heard a lot about Tŷ Newydd through friends, but had never been there until the Cynganeddu course.
As a writer, do you have a specific place that you go to for inspiration or to write?
Well, I'm not a writer but an artist. I create installations and statues, but writing has always played an important part in my creative process. Normally, I work from my studio in Twthill, looking over the town towards Yr Eifl and the Menai. But I do write and sketch when I travel, and when visiting sites related to my artwork.
Do you have a writing routine? Do you set a target to write a specific word count each day; have a special pen; a specific desk?
I try to write something every day in my sketch book, be that an idea or a sentence describing my day. This is a routine since my teenage years – my sketchbook goes with me wherever I go. Nowadays, I try and write at least one line of cynghanedd each day.