An Adventurous Weekend Getaway
When I booked my three-night stay at Nant, I was delighted that I would be one of the first to use the newly refurbished cottage and expectant of absolute peace and quiet being the weekend just before Christmas.
My expectations were met in abundance, with some unplanned adventure peppered in.
Back home in Caergwlre, I am a busy mum of 3. My days are filled with lifts and pick-ups to bus stops for college, homeschooling meet-ups, ballet, horse riding, playdates, dog walks, library visits (my favourites) and a whole host of buzz. Around this activity, I work on my personal blog, memoir and children's books. As if that wasn't enough, I am also studying in evening classes for a counselling and psychotherapy diploma.
It may come as no surprise then that a quiet weekend getaway alone was desperately needed. Driving alone to Nant, meant choosing the car temperature, stop off points and what to listen to. Do not underestimate the power of alone. My audiobook played throughout my journey and I finally arrived well after dark to Nant.
Pulling into Nant in the inky darkness, unlocking the cottage and putting the lights on, I had to stand and take in the beautiful design, colours, warmth and welcoming atmosphere. Thankfully I had stopped on my way to pick up a nice bottle of red to accompany my ready meals.
Once I chose which of the two bedrooms would provide me with uninterrupted sleep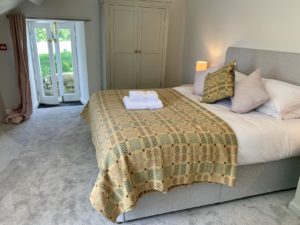 I poured myself a large glass of the red, put my feet up and covered myself with the Welsh wool blanket.
The following two days were blissful. I simply allowed myself the blessing of just being. I ate when I wanted, drunk wine, wrote, watched more TV and took long walks to the river where I sat and listened to the water, allowed my pace and mind to slow down and the creativity to flow. Heaven. Truly utterly fantastic.
There have been many days since then when I wearily open my laptop and hear "mummy" leading to me shutting it again that I have thought about my little adventurous retreat at Nant.
Nant is for me a true gem, a place of beauty, peace, quiet, reflection and creativity. I honestly can't wait to return for another stay at the cottage (expect the sequel) and for the courses. There has been tremendous thought, care, attention and love poured into this project, great consideration given to detail and this shows from the friendly accommodating emails to the stay itself. Absolutely super.