World Book Day
Happy St David's Day. It's also World Book Day, a great excuse (not that you need one) to dive into a great book. Unlike many school pupils across the country, we won't be dressing up as our favourite characters to celebrate WBD. Instead, we've collated all our favourite books together in this blog post. These are some of Literature Wales' staff members' best reads:
"One of my favourite novels is Catch 22 by Joseph Heller. The absurdity of its plot set during World War II is still relevant today with various wars and political situations across the world turning the lives of normal people upside down. I love the black humour and the ridiculousness of everything that happens in the novel, set contrastingly against a dark backdrop of death and war. I could read the book over and over again, and still laugh and cry at different parts. And it has one of the best character names in the history of books – Major Major Major Major, which will definitely be the name of my first born son, if I ever have one." – Leusa Llewelyn, Head of Tŷ Newydd
"Choosing a favourite novel is difficult, but a favourite author is easy – it would have to be the absolute genius that is Ian McEwan. His books fill the shelves at home, and up there with the best would be Atonement and more recently, The Children Act. I cried floods of tears the first time I read Atonement – it's certainly a book that most should read at least once." – Ceri Collins, Tŷ Newydd Venue Manager
"It's too hard to pick my favourite book especially in English as I tend to read mostly Welsh books. I prefer books that are part of a series. I was obsessed with Sweet Valley High and The Sleepover Club as a child, then moved on to Harry Potter, The Lord of the Rings and the Twilight Saga. I've since enjoyed The Hunger Games and The Divergent Series which have recently been adapted for the screen. One book that has truly left its mark is The Catcher in the Rye by J.D Salinger. It's one of those classics that you have to read at least once in your life." – Miriam Williams, Tŷ Newydd Marketing and Programming Officer
"If I had to pick my favourite book, it would have to be Wherever You Go, There You Are by John Kabat-Zinn." – Tony Cannon, Tŷ Newydd Catering and Hospitality Coordinator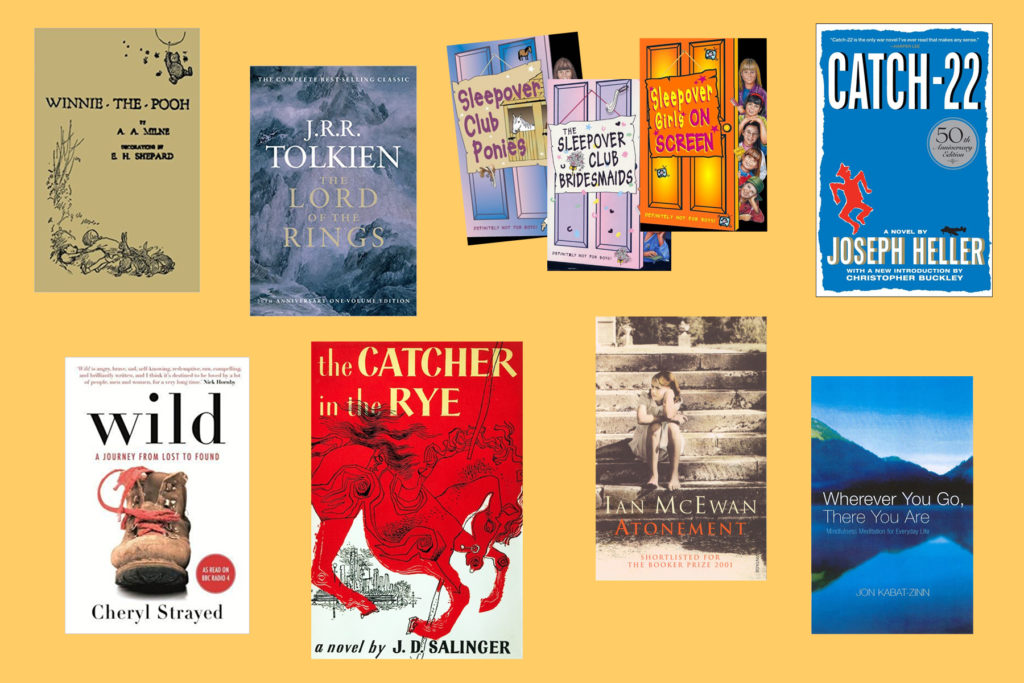 "I think that the most weird, wonderful and magical stories I've read are the tales of the Mabinogi. The tales are rooted deep within the landscapes of Wales; I often drive past some of the amazing places that star in each tale. They've inspired generations to produce amazing art forms. I was first introduced to the tales through Rhiannon Ifans and Margaret Jones' volume, before moving on to read Mererid Hopwood and Brett Breckon's volume to my children." – Mared Roberts, Community Participation Manager
"My favourite English language book is Winnie The  Pooh. It has simple stories with huge characters. I've still got my copy which is now 50 years old!" – Gwen Lasarus James, Community Officer
"My favourite book is Wild by Cheryl Strayed. It's a true story about the author walking over a thousand miles on her own across California, Oregon and Washington. It's a journey of self-discovery, and will certainly leave any reader feeling inspired and aching to go traveling on your own." – Elan Rhys, Lit Reach Project Officer
Don't forget about our 10% discount to celebrate St David's Day and World Book Day. Use code Dewi18 on the website before 15 March, applicable to all courses except masterclasses. Click here to view all our 2018 courses.