Exceeding Expectations – Ross O'Keefe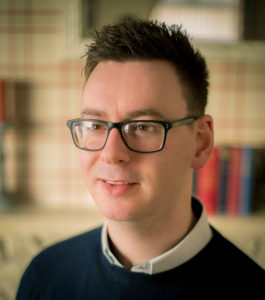 Ross O'Keefe is a Welsh fiction writer and blogger from the South Wales Valleys.  He is currently developing his first novel, as well as devoting time to the Arts in Wales.  He lives in Merthyr Tydfil with his partner and two young sons. Ross attended the Emerging Writers course at Tŷ Newydd 4-9 June 2018.
The weather was sinfully good.  Heading North, I didn't want the journey to end.  When you reach Snowdonia National Park the mountain game is strong, and you are hard pressed to find so much as one blemish on the horizon, in any direction.  Then, early along the Llyn Peninsula, you catch the ocean and the stunning town of Criccieth.  Farmland giving way to beaches.  Go a little further, hidden under the eaves of Llanystumdwy, and you find this beautiful old house with white washed walls, and peaceful gardens.
As far as omens go, I thought it was a pretty good one.
This was my first time.  Writing has always been a personal thing; a private thing.  I didn't do a degree in the subject and I'm not part of any writers groups.  My work was for my eyes only.  Not through choice you understand, but because I lacked a decent network.  When I saw the 'Emerging Writers' course – just three days before it started – it felt like the absolute right time to take that step.  To mix and mingle, offer my work up for scrutiny.  I signed up, hastily tried to pull some childcare together and set off.  I don't regret it one bit, though if I said I wasn't nervous, I'd be lying to you.
And what was I nervous about?  I suppose it was finding out that I had no voice, or else nothing to say.  Everyone would be so much more advanced.  I fretted over whether I belonged there, or if writing retreats were reserved for a certain kind of person on a certain kind of journey.
Well, as it turns out I was right on that last point.  It is reserved for a certain kind of person.  It's reserved for anyone – and I mean anyone, regardless of background, experience or schooling – who has an urge to put pen to paper (or fingers to keyboard, whatever your preference).  And it is reserved for people on a certain kind of journey.  Namely, those of us who want to get better.  The breadth of that ambition can range from personal satisfaction, all the way to seeing your work in print.  We weren't there to land book deals though, we were there to improve, and to think differently about how we might achieve that.
I soon got over the apprehension.  A few days in, I almost craved the feedback.  Getting it made me try a little harder, to push my own boundaries.  Everyone there shared my passion and energy; everyone there had things they wanted to say but were also ready to listen.  Published authors – the wonderfully personable and enviably talented Tiffany Murray and Tristan Hughes – ran our workshops in the morning, then joined us for dinner at night.  They read from their body of work and helped us understand their journey into this craft.  We ate great food, drank a lot of wine, and talked about all the things that writers in their studies ache to discuss but so seldom get the opportunity.  There were guest speakers too; author and editor Gary Raymond as well as publisher Richard Parthian of Parthian Books, sharing their own experiences and offering advice.
There was so much advice available. I couldn't fathom finding such a vein of experience any other way.  Then suddenly, there it was.
The timetable was pretty full, but there wasn't one point of the week where I felt like I was under any pressure.  If anything, I came away feeling reassured that I did have a voice and I did have something to say.  We all did.  Perhaps more importantly I came away with a network, new friends and colleagues.  Beta readers, sounding boards and shoulders to cry on.  It feels like such a privilege.
If anything here resonates with you then take the same step I did.  Get out of your study, park your insecurities and book yourself a train.  Head out to this gorgeous white house nestled in the woods; where inspiration grows on trees and the mountains meet the sea.
You won't regret it.