Gwen's Yoga Experience
Tue 14 June 2016 / Written by
Miriam
On Tuesday 14 June, it was pouring down with rain at Tŷ Newydd. Concentrating on work was difficult amidst the deafening sound therefore Gwen Lasarus, our Audience Development Officer, disappeared for an hour or two to take part in this week's residential course. It's quite an unusual course – Yoga and Writing lead by the tutor Siân Melangell Dafydd. Here are some of Gwen's thoughts on the session.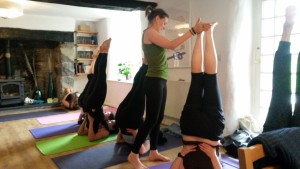 I managed to join in with the yoga session at Tŷ Newydd today, and it was lovely to be able to swap the computer screen for the mat for an hour and a half. We followed Siân's movements as she demonstrated different asanas or yoga movements, and her directions were simple and clear. I felt the heat in my body and my muscles tightening whilst the rain was beating on the roof of the conservatory.
I was yearning for a cup of tea about half way through, but urged myself to keep going and to concentrate on the moves, and to slowly exhale.
I did have my cup of tea in the end…after relaxing!