How Do You Run A Virtual Retreat?
Tŷ Newydd's Virtual Autumn Retreat was run in October 2020, with tutors and guest readers Cathryn Summerhayes, Helen Sedgwick and Christina Thatcher. Dewi Heald was one of the participants, and here he writes about his experience on the retreat.
Dewi Heald is a writer and musician from the Vale of Glamorgan, whose novella Me, I'm Like Legend, I Am was highly commended in the New Welsh Writing Awards 2019: Aberystwyth University Prize for a Dystopian Novella. You can follow him on Twitter @dewiheald1, on his website or on The Dai Bongos Channel on YouTube.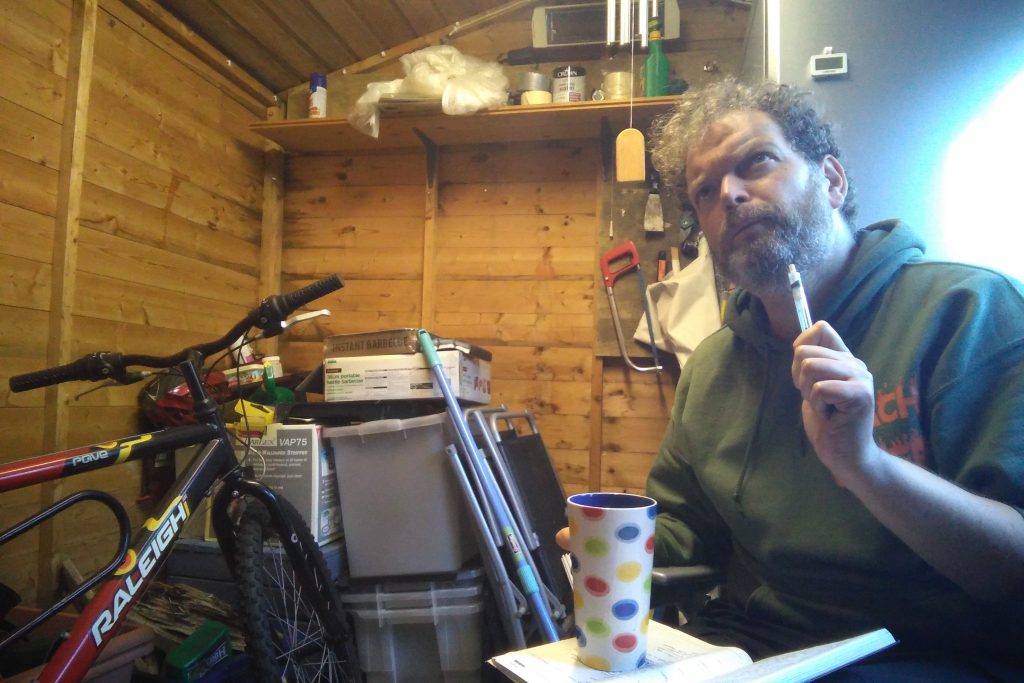 How do you run a virtual retreat? When the premise of what you do is gathering writers together in beautiful Snowdonia to escape their day jobs and eat, drink, talk and think about writing, how can you do this online?
The answer turned out to be very well. It took a little adjustment from the writers and we started with discussion of finding a place in our houses to have time to reflect and retreat. I had arranged a little area in a spare room for the Zoom calls, nominated my shed as a space to write and planned walks in the countryside each day to imitate Snowdonia – after my one to one with Cathryn, I was so inspired that I rushed out towards the seaside, got caught in a hailstorm and had to return home completely wet through. Perhaps that could have happened in Snowdonia too.
Each day was expertly-organised by the Literature Wales staff. There was a clear timetable with a morning seminar, writing time in the afternoon and then a gathering in the evening to discuss the day's learning. I was pleased to see that many of us writers lived up to our stereotype by attending the evening with a glass of liquid inspiration.
The sessions with professionals were excellent. For those of us who have only ever known agents as the people who reject your work, Cathryn Summerhayes was a wonderfully encouraging and inspirational seminar leader, talking about pitching your work and then how the publishing industry operates. Writers often struggle with 100 word summaries but Cathryn put us through our pitching paces to good effect.
I was also impressed with the range of writing that my fellow attendees were doing. Novels in all sorts of genres were underway and there were those who had done performance, poetry and short fiction too. There is something so relaxing in being able to talk to people who share your interests. Helen Sedgwick's session took us through her journey as a writer and was re-assuringly honest about the lows as well as the highs.
I also learned a great deal about who I am as a writer. Christina Thatcher led a seminar about finding your 'brand' that really brought this home. I was already starting to suspect that I was 'eclectic' and asked by a fellow attendee about my non-fiction work about being a Quaker realised for the first time that what had been a self-publishing project to raise money for my local Quaker Meeting was also part of my writer's journey. On the last night I was persuaded to get out my bongos and kazoo for a 'name that tune' session over Zoom. Now I know that this is all just part of my 'brand'!
I came away from the week with new twitter followers, lots of ideas and a much better understanding of how to market my work. It has re-energised my interest in how to get my work out to a greater audience.
How do you run a virtual retreat? Very successfully – my thanks to all those at Literature Wales' Tŷ Newydd and to Cathryn, Helen and Christina for their help, thoughts and guidance.