My Wonderful Week at Tŷ Newydd
Back in November 2019, Anna Caig came on a Crime and Thriller course at Tŷ Newydd tutored by novelists Clare Mackintosh and Katharine Stansfield. Here's a blog written by Anna based on her experience at Tŷ Newydd. Anna Caig is a Head of Communications and MA Journalism tutor by day, and a crime and historical fiction writer by night. She writes about books for the Sheffield Telegraph newspaper and on her blog Murder Underground Broke The Camel's Back.
Clare Mackintosh was one of the tutors on a crime and thriller writing retreat I took at Tŷ Newydd, the national writing centre of Wales, recently. She is a spectacularly successful author, multi-million selling and award-winning. Not only that, but on the week of our course she was also fast approaching the deadline for submitting her next novel. She would've been well within her rights to steer clear of us riff raff when the teaching was done. This very much did not happen.
On the first night she mentioned she liked an open water swim and I mentioned I'd brought my cozzie (planning to visit a lovely indoor heated swimming pool at a neighbouring campsite…) And our dawn ice cold swims in the Irish Sea began.
Those swims sum up the time I spent at Tŷ Newydd. Doing things outside my usual experiences, pressing life's reset button, seeing endless possibilities. And maybe just a bit of pretending to be in Baywatch… At first, when you plunge yourself into a cold sea, your lungs contract and you struggle to breathe. Then, as the feeling of imminent death passes, it starts to feel good, you breathe again (and appreciate it), your skin tingles and you feel so very alive in that water.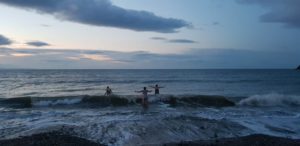 All a bit Brené Brown, I know, but it was a special week. Tŷ Newydd is a magical place to spend time with awesome like-minded writing buddies, and both our tutors – Mackintosh and Katherine Stansfield – are seriously impressive and inspiring ladies who can also, it turns out, be persuaded to partake of a cheeky vimto (port mixed with blue WKD, if you haven't had the very sophisticated pleasure) way past bedtime.
All in all, I left that beautiful corner of North Wales excited about the future – and not just in terms of crime and thriller writing.
To read more about Anna's experience at Tŷ Newydd and her review of Clare's recent novel I See You, visit her website.