Penrhos Polish Care Home
In May 2016, eight residents from Penrhos Polish Care Home, Pwllheli, visited Tŷ Newydd. The majority of the group were between 70 and 80 years old, and almost all of them had moved from Poland to Penrhos. Hearing all three languages, English, Welsh and Polish, spoken throughout the day was wonderful.
The residents enjoyed a walk around the area with Bethan Wyn Jones a naturalist from Anglesey. She's written many books about nature, writes a weekly column for Yr Herald newspaper as well as contributing regularly to the Galwad Cynnar show on BBC Radio Cymru. Bethan led a nature walk around the Tŷ Newydd garden, and explained more about some of the interesting plants which grow here. Some of them had similarities to plants that originate in Poland.
Below is an example of a short piece written by Mr I Krajewski about the walk.
The solitude interrupted by the hum of the 'motorway' traffic. The cherry tree whose branches were so long and slender, almost like a human head with a good crop of hair. The bush spreading its branches along the green grass like the tentacles of an octopus. The sleep inducing cascade of the River Dwyfor. One could float there for hours and just listen to it. It's almost like the orchestral concert. The cat who accompanied us in our meanderings'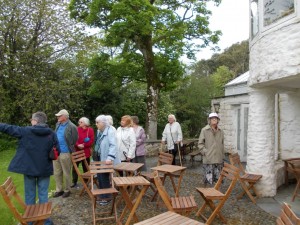 Later on in the day they had the opportunity to write with poet Fiona Owen, also from Anglesey who writes poetry, fiction and songs with Gorwel Owen. She's a Creative Writing, Literature and Humanities tutor with the Open University, and leads workshops for the Ucheldre Literature Society in Holyhead.
Another resident, Krystyna Seklecha, also wrote about the day:
Feeling the atmosphere when one enters, serenity and feeling of calmness. The walk leading to the chore of the river stays in my mind. There was some surprise when we were accompanied by a beautiful tiger cat who followed us all the way. A beautiful lunch and kindness of the ladies that took us through and were listening to our tales about our past and life in Wales. I have been in Wales for nine and a half years and loved every moment of it. Thanks Wales and all who live here.
Sucyma Krowrak wrote about the nature trail…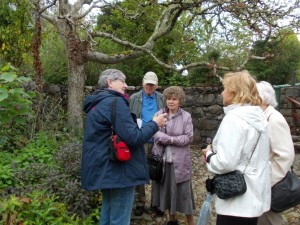 Green green green the freshness of it. Green succulent leaf clung one to another, the moisture is the glue. Just take that green between your fingers.. squeeze it gently, you have got aroma, do you think this green is the colour of your soul?..your life. I feel so healthy, joyful, light, even the green monster (it exists) it went somewhere.. the only green is smiling wildly around me and above my head…
It was a wonderful day with everyone left feeling refreshed and recharged. The residents must've enjoyed themselves as we've received an invitation to visit them at Penrhos.