Profile: Ledbury Poetry Festival Poetry Competition Winner RTA Parker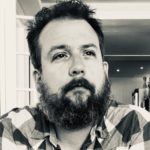 Every year, Tŷ Newydd donates a place on a residential course for the Ledbury Poetry Festival Poetry Competition's First Prize. This year, we're delighted to announce that the winner of this year's competition is RTA Parker with his poem 'All the Bleak Chippies'. You can read the full announcement, and more importantly the poem itself, on the Ledbury Poetry Festival website.
RTA Parker will attend a Nature Writing course at Tŷ Newydd in 2019, he said:
It is a great honour to receive the Ledbury Poetry Festival Poetry Competition prize; primarily because of how well-established the festival is and how delightful it is to be in the company of so many powerful voices. It also feels like something of an affirmation for my wonky and anxious poetics to be recognized in this way. I'm really looking forward to learning more about nature writing with the great writers at Tŷ Newydd, as the politics of nature should probably be our only subject at this calamitous time.
We sent Richard a quick questionnaire to get to know him better.
What's your favourite book?
I'm not sure I quite have a favourite book, though there are a bunch of novels that had powerful formative influences on me – maybe Proust's In Search of Lost Time would be one, though I've not returned to re-read it very often. Recently Samuel Delany's Trouble on Triton and Dhalgren have been something of a preoccupation – it might be possible to see some of this in the poem I submitted to the Ledbury Poetry Festival Poetry Competition. As to poetry, The Cantos of Ezra Pound is the inescapable text that I know the best, but I'd be loath to publicly announce it as any kind of favourite. Jack Spicer's collected poems are perfect, as is the monolithic manifestation of Emily Dickinson's very unmonolithic collected tiny poems. CLR James's Beyond a Boundary seems like no less of an achievement than these; a book which has influenced my writing, politics and summers.
If you could be the author of any book, which book would you chose?
I would love to have written the Scott Moncrieff translation of À la recherche du temps perdu or Middlemarch or the Woodstock movie – these wide canvases feel so far away from anything I do. It would have been fantastic to have written one of Melville's enormous failures: Mardi or Pierre. Poems I would have liked to have written include any of Dodie Bellamy's, or Nicanor Parra's Antipoems, and Philip Terry's Du Bellay poems.
If you could choose any three writers, dead or alive, to invite for supper, which three would you chose?
I would be very excited to have Mike Brearley (author of the Art of Captaincy) over to dinner, and I remember the ex-Surrey spinner Zafar Ansari suggesting that his perfect slip cordon would have Malcolm X keeping wicket, Rosa Luxemburg at first slip, Chimamanda Adichie at second and Angela Davis at third, with Ansari at gully. I think this would probably also do for a dinner party.
 
Who or what inspires you to write?
I'd say all of the sources above inspire me, though maybe, more than anything, it's the existential worry of not knowing quite how to live – thinking about what a liberated life might be like in the anthropocene, amidst the wreckage of the sexual revolution and in whatever weird iteration of late capitalism we're bogged down in now. I love the terrors of the natural world and am troubled by the warm comfort of their absence.