Seven poets awarded a place on our Digital Poetry Masterclass with Gillian Clarke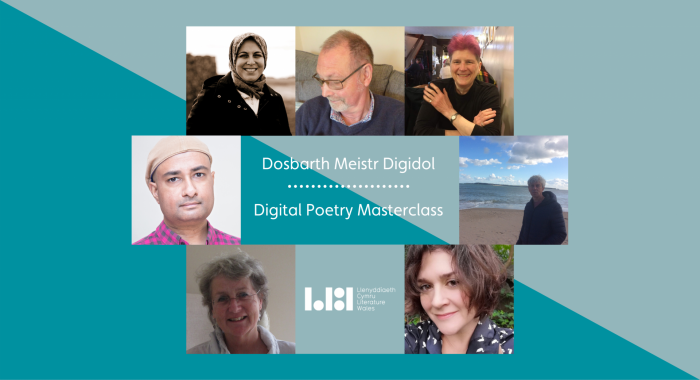 To celebrate the 30th anniversary of Tŷ Newydd as the National Writing Centre of Wales, Literature Wales is delighted to announce the names of the seven poets who are joining Gillian Clarke, former National Poet of Wales and one of Centre's founders, on our first-ever Digital Poetry Masterclass=.
The course, which takes place from 15 – 19 June 2020, is an opportunity for committed poets to further develop the shape, music, and imaginative possibilities of their poetry. Over the course of five days, the poets will write, take part in group discussions, and receive critical feedback on their poems. During the week, poet Mona Arshi will give a reading to inspire the poets' work. The course will culminate with the publications of a digital anthology of the poems created during the week.
All seven poets were selected by Gillian Clarke through a competitive application process. A warm congratulations to them all, and we hope that we can welcome them to Tŷ Newydd itself when the centre can safely re-open.
More digital courses will be announced soon, keep an eye on our website and social media channels for more information.
The Poets
Abeer Ameer's poems have appeared widely in print and online journals including: Acumen, The Interpreter's House, Planet, Tears in the Fence, Magma, Long Poem Magazine, Poetry Wales and New Welsh Reader. She is currently working on her debut poetry collection due to be published by Seren in 2021.
Annie Butler studied Fine Art and Design at Carmarthen and now lives in Lampeter. Her written work has been published in various webzines and anthologies including the Forward Book of Poetry, the Lampeter
 Review and Red Poets. In 2017 she won the R.S. Thomas Poetry prize. She supports the spoken word and is one of The PENfro Poets based at Rhosygilwen Pembrokeshire. She is currently working on her second poetry collection.
Mick Evans was born in London and grew up in Hertfordshire; he was a teacher in London, Cheshire, and in the Towy Valley, where he moved in 1985 to re-establish the Welsh roots of his family. Drawing inspiration from local landscapes and sense of the past, he also finds resonances in his urban origins.
Kathryn Hill was born and raised in Cardiff, and is currently living in the village of Taff's Well. She completed her first degree in English and Creative Writing as a mature student, and is currently in the final stages of finishing an MPhil in Writing at USW. She's a mum of five, ranging in age from twelve years to four weeks old.
Miles Hovey is studying for a BA in Creative Writing at Aberystwyth. He spent 35 years working as a builder in Pembrokeshire after moving from London, where he had been a Lloyd's broker, an agricultural labourer, and a boatman on the river. He went to Reading University, briefly, following school at Eton College. He is married with three children.
Carole Powell was born and brought up in Hertfordshire, but now lives in Pembrokeshire. She loves the coast, the hills, big skies, trees, yoga and somatics. She is often found exploring the outdoors in close-up with camera, taking sound-recordings, and finding new fusion music.
Taz Rahman is the founder of Wales' first YouTube poetry channel 'Just Another Poet'. He recently won a 6-week poetry mentorship with award-winning London poet, Caleb Femi, and in April 2020 was awarded a Literature Wales 2020 Writer's Commission. His most recent publication was a poem included in the Dylan Thomas Day celebration anthology, Love the Words.