Slow Pace, Nice People, Make Art
Sini Downing is Head of Production at a London-based company that specializes in story and character for video games. She is currently writing a collection of short stories. She attended the Out of the Shell: Writing and Making Art course with tutors Annie Freud & Pamela Robertson-Pearce in October 2017.
________________________________________________________________________________________________________________________________________________________
I'm a writer, amateur status for now, who has generally worked in novel form. But after a hiccup in the road towards publishing, I'd lost my motivation. I wasn't writing anymore and it scared me. I looked for a retreat that would provide tasks and motivation, as well as a supportive environment within which to begin writing again. My ideal location: UK based, away from cities, and near the coastline. And I found Tŷ Newydd.
Expectations
Extracts from my journal: I'm going on a retreat! In Wales! The course is about creativity versus writing exclusively: Prose, poetry, painting. I like the idea of being open to all disciplines. I'd looked online at other courses around the country but the tutored sessions sounded TOO tutored. I want to explore right now, not hone. This has a program but also "plenty of time to work on your projects alone". The untutored retreats elsewhere sounded too simple, with sparse rooms and frozen dinners. At Tŷ Newydd, the rooms look simple but comfortable, and we get cooked for. There are Instagram-friendly opportunities of old typewriters, book shelves, and paned windows looking out to the gardens. I'm already planning my packing: comfy layers, notebooks, inky pens, cotton overalls, new laptop.
Quick fire impressions, thoughts, hopes:
historic rambling house & nice gardens
inspiration from creative people
liberation to spend time being a creative
finally, Wales!
finding new paths within my own imagination
new friends
This morning I remembered my book, A Reader's Guide to Writers' Britain by Sally Varlow. I looked up Wales and found a few quotes I liked, including: "Steal if possible, my revered friend, one summer from the cold hurry of business and come to Wales." – Shelley, "Letters", 1812. Wales – I have high hopes.
The beginning
After a simple train journey up from London, I shared a ride from the station to Tŷ Newydd, and was given a tour of the main house before being shown to my room in the Annex. The welcome was so warm and casual – I was soon making myself a cup of tea in the kitchen and sending an enthusiastic email to my family, with a photo of the view from the Poetry library:
I've arrived! That's the sea out in the distance! Place is lovely, staff are lovely and I'll soon meet the other residents at dinner.
And from my journal again: I have an hour to dinner. Spaghetti Bolognese- a massive pot is bubbling furiously on Tony's stove top. He's very nice, been here two years, loves his job. There are plenty of places to sit and read, work, etc. I look forward to trying a few spots. It's cosy in the library. Sofas and armchairs. Nice. I can definitely wear house socks tomorrow night.
At dinner, I enjoyed some very good spaghetti Bolognese, cumin flavoured soda bread and oat & berry crumble. There is a mix of personalities in the group. The tutors seem passionate, interesting and kind. Back in my room, I opened my door (I don't have a window) and saw a round silver moon with clouds skimming past all seen through a mature and craggy tree. Beautiful, filmic, bit Tim Burton-esque. Perfect for October.
I think I may be a mixed media girl. Just putting that out there…
The routine
Our friendly chef Tony was on hand the first morning to show us around the kitchen– we'd be responsible for making our own breakfasts, he'd have lunch ready each day at 1PM – soups and salads- and then we'd all gather again for dinner at 7PM. While some groups at Tŷ Newydd assist with food prep (peeling potatoes etc), our tutors decided to give us the extra time to continue working on our projects, though we were responsible for putting away lunch items and washing up after each meal. It was a nice balance of independence and being catered for, and each meal was delicious. Many were vegetarian and always full of flavour.
In terms of the program, we met each morning after breakfast in the dining hall, with its large long table and historic pieces. Sunshine came in through small paned windows, so often some members of the group would remain in the room to work when we'd been set our tasks. Others headed straight outdoors – to patio and picnic tables in the garden, to set up on a blanket on the lawn, or go further out into the gardens. We always had the libraries and our rooms to retreat to, and there were other little nooks dotted around the main house to work in.
It's a lovely morning, cool and dry with thick white clouds. I've had a wander outside and look forward to going through the gate at the end of the garden towards the sea at some point.
The workshops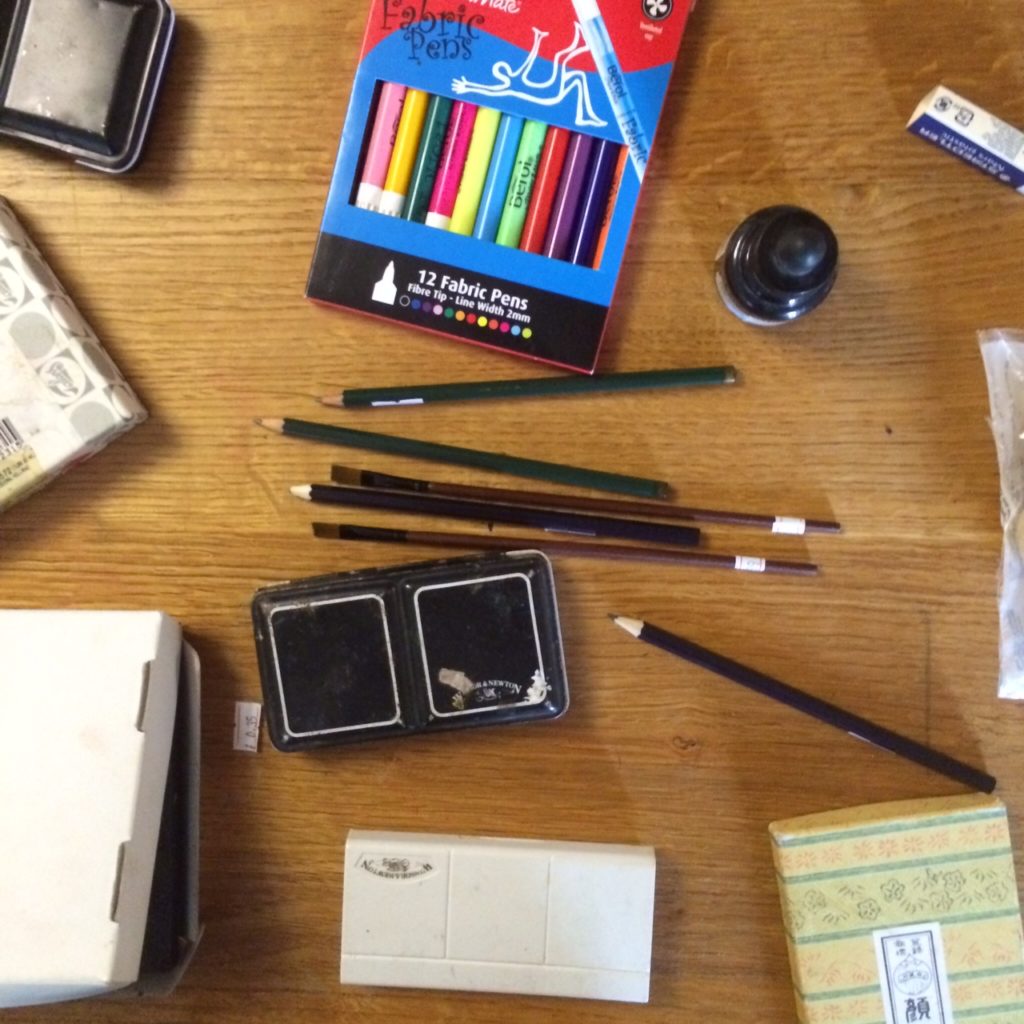 I won't go into too much detail about the workshops, as each week at the centre is different, but I do want to briefly summarize how we responded to the lessons and tasks given. For instance, on Day One we discussed portraiture and then were asked to create our own portraits. Having not drawn or painted since secondary school, I was startled to find myself facing a mirror and a blank piece of paper. I sat indoors and drew one tiny portrait after another, unsure of my ability and not that comfortable staring myself in the face for so long. I went into the garden and set up at one of the tables on the upper terrace. There was something about the natural light, the breeze going through the trees, Maggie the (feline) muse, and the overall peace of the place, that made me settle down. I quickly put charcoal pencil to paper and was able to complete a full-page portrait before the lunch break. The calm atmosphere of the centre certainly contributed to my progress.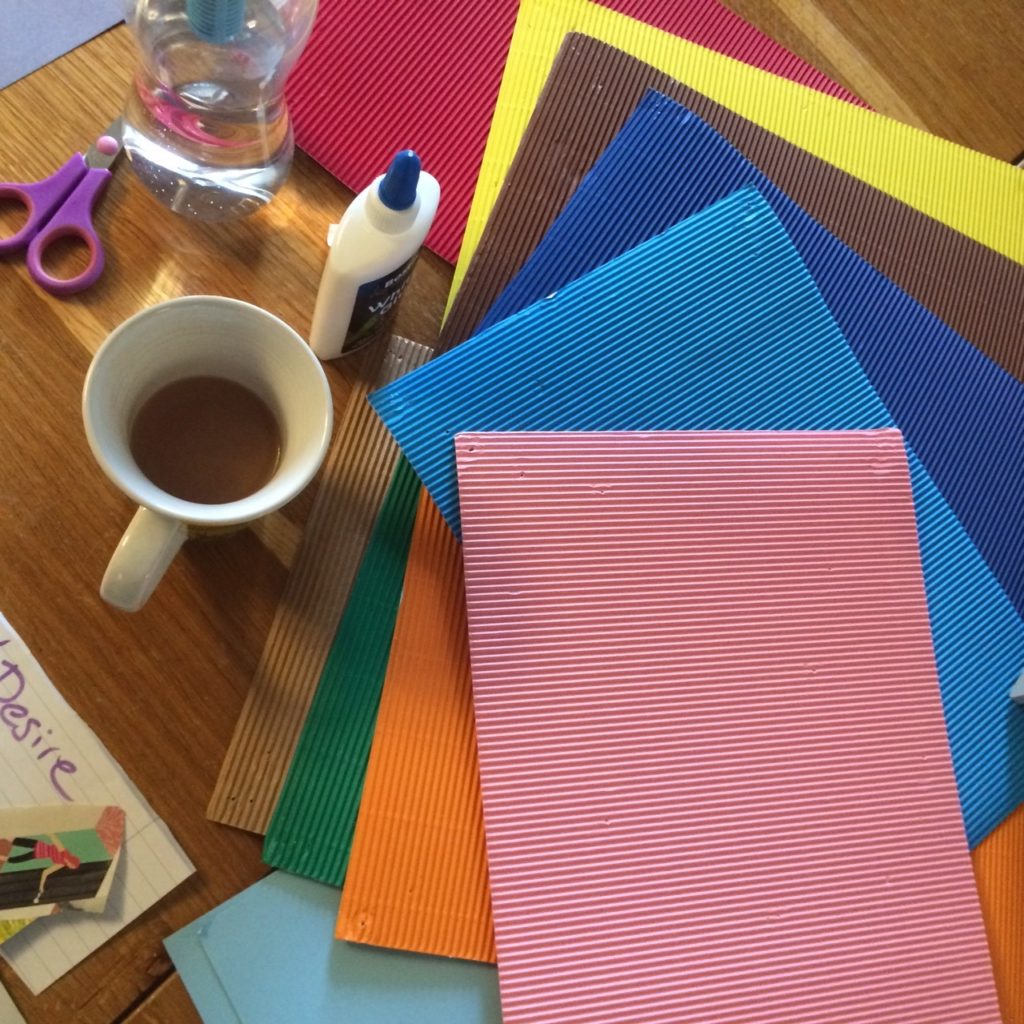 Another day, we were tasked with putting together collages about things that make us feel strongly both positively and negatively. It was an activity I've done many times in my creative journey and wasn't sure what I'd get out it:
It was interesting, when we broke to start the collages, I thought I wanted a private space – I'd brought along a lot of carefully curated clipart and clipped text and I didn't want to be watched while I worked. I wandered to the literature library but it was lonely. I can collage alone and in silence any day. I went to the upstairs level of the conservatory – there are two tables there, so I wouldn't be alone, but people had already claimed their spaces. So, I returned to the main hall and sat at the big table near Alan, Leoni, and Annie, with Annie F at the far end. Fran and Sarah had the buffet tables. And it was nice. There was little chat, but just having them there, doing the same thing as I was, was pleasant. Hearing pages being torn, the clip of scissors, Alan occasionally chuckling to himself. We established an "image bank" on a window seat, where everyone put their magazines when they were done. Occasionally, someone would bring a certain image to an individual, telling them, "I thought you might like this".
Everyone approached the activity slightly differently, some attendees covered fear and love, hate and desire; some created mixed media representations of themselves, and all got something out of it, especially after sharing the collages with each other. From my journal again, after the evening presentations: We are all, as Susan said, "whacked". Who knew a bit of collage and thinking about ourselves could be so tiring?
Outdoors
Kim and I walked to the beach – some of the path was pretty muddy but it was great to reach the coast. We passed some cows looking out across the seascape- salt beef?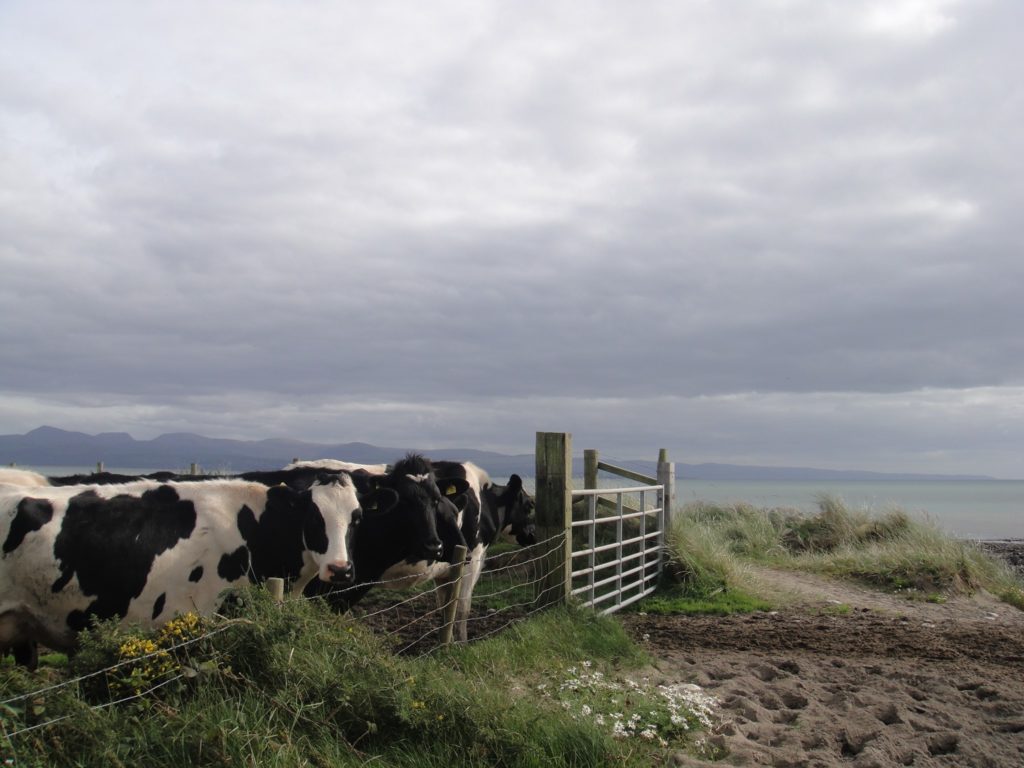 It isn't a pretty beach, per se, but I didn't expect it to be. The tide was out and there was a lot of seaweed strewn about. We saw a few stranded jellyfish. Water was streaming back to the sea, and the sand had some lovely ripples in it. We then took a different way back and ended up in some pretty swampy areas. There were blackberries, acorns, conkers, red berries, brambles, nettles; cow pats, low stone buildings, bi-lingual railroad track warning signs, and squelchy farm fields. City slicker that I am, I don't recall the last time mud has sucked at my boots with quite so strong a hold. It's cool but not cold, I'm sitting in the garden with my jacket open. I was going to write in the poetry library but as it may rain tomorrow I thought I'd take advantage of the pleasant weather today. I've had one of Tony's nice biscuits –oats, golden syrup, coconut. Hearty. Only need one! Cup of tea is quickly cooling.

The surprises, insights & moments
The one-to-one meetings with tutors Annie and Pamela were intense and insightful. They covered areas I hadn't expected and I came out encouraged and supported. Really lovely to have had that time with the them.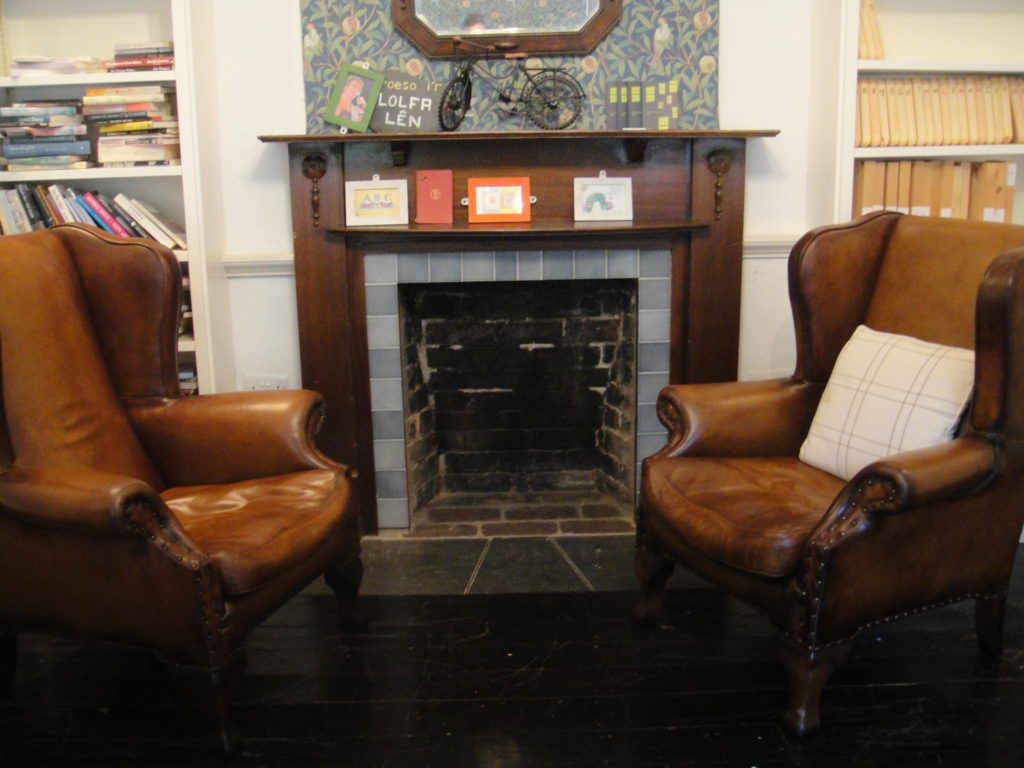 But it wasn't only the tutors providing special moments; I entered this in my journal after one of our evening events:
After putting away dishes, I headed outside towards the Annex with my last mug of tea. There was a full moon tonight and I had an impulse to look at the back garden, so swung right to peer through the gateway leading from the tiny kitchen courtyard. The sky was silver and black with clouds tinged in moonlight and the grass had a white glimmer across it. As I wondered if it was a mist hanging over the lawn, a voice said, Hello Sini. I startled and looked over at the swing, where, in the darkness, I could only see the orange end of a lit cigarette. I recognized the voice however and greeted Sarah with a laugh.
She surmised the white on the lawn was dew. I sat down for a moment on a chair next to her and we ended up chatting for ages while she smoked her fragrant cigarette and my tea cooled. We spoke of the first time we'd seen really starry skies properly (she in Wales, me in Bermuda), the moon, plus our progress on our current assignments. Then another voice came from the gate, asking if we were ghosts. It was Leoni, who then joined us for a chat in the dark. It was really lovely.

The Results
Last day of actual retreat. Painting this morning, then finishing up, or continuing, work this afternoon before the "celebration" where we each have 10-15 minutes to present what we've been working on. People keep asking: what have you done? How are you doing with the work? I've finished my landscape- it's better than I expected. I got a bit of technique help from Annie, though whether she'll see her influence is another matter!
I'm sitting on the upper terrace of the back garden with a cup of tea and a small piece of Tony's delicious ginger cake. I can hear my fellow retreaters chatting and clinking plates on the terrace below. The sun warms my right side. I'm just in a sweater and jeans, no jacket or scarf today. A lot of people painted outside this morning.
Before dinner, I helped Alan set the table, with mismatched cutlery, side plates, water and wine glasses, red napkins, tea lights (but not the antler lights as we'd run out of taper candles), and the flowers. Everyone gathered around the table, each standing at a seat, holding onto the back of their chair, giggling and wondering aloud why we were doing it. 
We were a bit quiet at dinner, not sure if we were tired or anxious about the "celebration" presentations. After the meal, we headed upstairs. The tutors had gone up earlier, they liked to have a bit of time to themselves first, and I snuck up to set up the little slideshow of photos from the week I'd prepared. People were delighted.
Everyone's presentations were nice – each had a different take on how and what to share. After we'd all presented, we were encouraged to give each other comments of support etc – we were a bit shy at first but got into it as the tutors moved around talking to individuals. I put the slideshow on again. Fran gave the tutors the cards we'd signed (thank goodness she'd thought of it, I haven't been on enough group things to think of this stuff). Slowly people drifted off to bed, though some of us stayed around, finishing off wine or drinking tea. Alan read us a poem and I'd have happily sat and listened to people share a few more.

Home Again
Last night, I felt slightly weird, it was as if I'd been blinked back into my own bed. It seemed the whole week in Wales was on an alternate timeline or in a different realm, where the grass was a brighter green and the quiet enveloped you in a protective layer.
The arrival at Euston station had been such a shock – I can't remember the last time I'd had such a rude return to the city. There, a cacophony of announcements, people calling to each other, babies crying, a mobility vehicle beeping, mixed in with figures criss-crossing, hurrying, hugging, a child tooting a toy horn, an elderly grandmother complaining from her wheelchair; faces looking up at the departures board, sharing a drink, hurrying to get a snack, pulling suitcase, pushing prams, jostling shopping bags…I realized that I'd been with the same 14 people (eight attendees, two tutors, four staff members) all week. It had been a Really.Quiet.Week.
"The pace of life is slower, the people are nicer," my Bangor taxi driver told me of Wales. It seems to be true, the people I interacted with were very nice. As for the pace of life, well, compared to London, most places are at a slower pace. And we'd hit such a peaceful rhythm during the week.

After my final presentation, one of the tutors told me that remembering to breathe when I recite my poetry will slow me down and make my delivery better. I know this, but I tend to forget it when I'm in the moment. I speak quickly and think quickly and justwanttogetitallout. There are a lot of lessons to process from the week, but for now I'll make a note of that one: I will remember to breathe.