"There was a song with us all the time"
Rose Rouse recently attended the Autumn Poetry Masterclass in October 2018 with Gillian Clarke and Robert Minhinnick. She published this blog on the Advantages of Age website, which can be found here.
______________________________________________________________________________________________________
There's something about starting a new pursuit and passion when you're older. It's stimulating in a different way. I began writing poetry when I was 55 ten years ago. Partly, because it was non-commercial. I knew I'd never earn any money from it – so it could be purely words and me. Unlike the world of freelance journalism that I'd inhabited for the previous 25 years, which was getting more and more like a hamster wheel.
I sought a certain sort of freedom of literary expression for its own sake. And I found it at City Lit and City University in evening classes with all sorts of contemporary poets from Roddy Lumsden to Annie Freud to John Stammers. The latter had an invitation-only group, which I eventually was able to join and Wednesday afternoons became the highlight of my week. They still are.
Last year, I published my first pamphlet Tantric Goddess at the age of 64 on Eyewear. There was a flurry of readings including a Tantra evening at Book and Kitchen – this wonderful little independent bookshop in W11, which has now sadly shut down – with friend and writer, Monique Roffey. I read from my pamphlet and Mon read from her recent erotic novel The Tryst, then we did a Q & A afterward on tantra workshops. We loved it, there was such an easy, intimate flow to the evening.
A year later, I felt like I needed to get out of the almost comfort – despite the ruthless taking apart of each other's poems – zone of The Group and float my poetry evolution elsewhere. I had just discovered – how had I not known – that Tŷ Newydd, the National Writing Centre for Wales is actually three miles away from my partner's farmhouse. I saw they had a masterclass – surely mistress class by now – with the former national poet of Wales, Gillian Clarke, at 81, a grande dame of the art and Robert Minhinnick, another revered Welsh poet and eco-activist. We had to send off poems and be invited. Phew, I got in. Apparently, they chose 16 out of 30 applicants.
The week before I was feeling a little anxious. How would my London/Yorkshire attitude go down? I also knew I wanted to be committed to this course. No staying up late with other poets, I was going to be devoted to the workshop itself.
I drove into the village of Llanystumdwy, along the river Dwyfor and found the long driveway to Tŷ Newydd. It is a grand old house – where the former Prime Minister, David Lloyd George had lived – and painted in white and blue with a long, narrow library designed by marvelous architect and eccentric Clough Williams-Ellis, the man responsible for the wonderland of 'fallen buildings' that is Portmeirion down the road.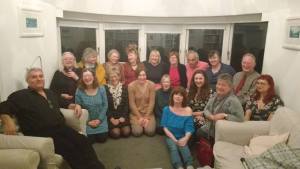 My room, well, our room – I'd yet to meet my roommate – was right at the top of the house. Oh, yes, the long-forgotten joys of the single bed. Eventually Thirza – I learned later that this was a self-appropriated name – turned up and so began our week of negotiating this space. Actually, she was very well-behaved, although definitely a late night poet. On the last night, she outdid herself and didn't get to bed until 3:30 am.
I managed to resist. I told you I was going to be a good girl. At last. Thirza, who is older than me, obviously wasn't rebellious enough in her youth and middling years! She was lovely, by the way, kind, supportive and didn't complain about my snoring.
The first night was meeting each other and eating delicious food, a good portent for the week. We also got to interview each other in the library and then introduce the group to our partner. An exercise in listening and remembering. And absolutely no run of the mill – where do you come from type questions – for Thirza. She recounted her love of gardening, Italian and her strange obsession with the dishwasher.
The next morning –the workshop ran from Monday afternoon to Saturday morning, which seemed short but turned out to be intense – we started for real. With Robert. Who is an elegiac poet of distinction but in person quite dramatic and direct. And funny. Oh, I have to say there was only one other person on the course from London. This was heaven in so many ways. There were poets from up north and many from Wales. There was that song with us all the time.
Robert had brought an envelope of abstract nouns that he'd prepared earlier. We got one each, looked it and started writing with his prompts. Unlocking the muse suggestions. What does this word taste like? Where is it? What does it feel like? I got jealousy – a shameful feeling with which I am very familiar. We wrote for 15 minutes and then read out to each other what we'd written. The first public declarations. The others had to guess what our word was. Well, they got that mine wasn't pleasant. One of my lines was – 'You are a twisted priest'. Robert liked that. Other abstract nouns were dread, fear, joy, wonder, mystery and we began to form an impression of each other as poets.
It was fun. The afternoon was with both tutors and eight of us brought along poems without our names on them. We handed them out and critiqued them publicly. And then wrote little advisory or appreciative notes on them. The first one was called Goldfinches and very accomplished – about the First World War and vividly expressed. I'd put one in called Identity, which was about race, my son and partly about Grenfell. Funnily enough, it hadn't gone down well with my group in London but it did go down well in this group. I got a lot of positive feedback and some questions. One was about my usage of bastard mango, ie was it gratuitous or actually the name of a mango. It was, I'm glad to say, the actual name of a mango. I found it very useful although the shape of the table meant that we couldn't really have flowing conversations. And 16 turned out to be a challenging number of people for optimum inclusion.
Later on, we divided into much smaller groups of four to look at each other's poems. Ones that we'd brought with us. My group retired to that fabulous library with the view over to Cardigan Bay and we were serious about our endeavor.
Incidentally, 'serious' is one of Gillian's favourite words and now at the ripe old of 65, I can finally appreciate it. And sink into it.
We were Alison Lock – a poet and short story writer from Huddersfield, Julia Usman – a poet from Swaledale who travels to Dubai a lot to visit her husband, and Trish Reith – a poet who lives in Biggar, Scotland. It was delightful to find four women who liked talking about poems and poetry as much as I do. There were occasions when we almost had a chat but Trish kept us in line. Poetry, first.
The reason we liked our fours – the others in the group agreed – was that we could share equally. We spent an hour each day with our four poems. Someone would read one, the others would comment, then the poet in question would respond to the comments. We all found it incredibly instructive. And we discussed questions like – how do we bring political events into poetry. Make them personal in some way, I think we agreed.
Later in the week, we dubbed ourselves The Crones. Part of AoA's vision is to reclaim words like crone and old, in order to make us feel more relaxed about ageing and less in the eternal pursuit of youth. I could immediately see a Crone Tour on the cards.
And it was Halloween while we were there. In fact, Trish had a poem called Mission Time, which was about the original pagan festival, Samhain. And it just so happened that the Crones were the cooking crew that night ie we chopped vegetables for the Lobscouse, a tasty stew that I'd never heard of but apparently fed to sailors in Northern Europe for years – so we performed Mission Time as Crone-witches. It seemed to go down a storm. As did the Lobscouse and the wine.
There were readings in the library in the evenings – initially Gillian and Robert. Gillian read a few from her vast selection, while Robert tried a new long poem about his mother on us. He's written about his mother before – she's diagnosed as schizophrenic – but not a suite of poems like this, they will be set to music, they was a triumph. On Wednesday, we were treated to the poems and personal stories of Kim Moore whose collection The Art of Falling has won prizes and many plaudits, there's a moving 17 poem sequence in it where she describes an abusive relationship she was in. 'And in that year, my body was a pillar of smoke'. From Barrow, she's got a new collection that features poems about sexism as she's also doing a PHD on the subject. She read a couple of poems from this new collection All The Men I Never Married – they are lyrical, incisive, brave.
The week unfolded and I found I enjoyed the workshop mornings where Gillian or Robert would offer poem prompts – like think of an object which has a memory, where is it etc. Mine was the kitchen sink in my childhood home in Yorkshire and turned into a poem where I remember my father washing me in this very sink. It was, I said, a look back in sweetness to that time, rather than when I was a bit older and life with him was a lot more difficult. There was something about the challenge of this deadline that I relished. And their lyrical nudges. Gillian would say – make sure it includes a hallelujah line. Robert would say – make sure it's powerful. And then there was the important advice – don't have a summing up line at the end. I liked it when Gillian suggested we look up and over our shoulder for that last line.
On the final day, we were to assemble – Jude Brigley, Anne Phillips and Rufus Mufasa were the fine editorial team – an anthology of our work, the Secrets of Cwtch Dan Star (the cupboard under the stairs) inspired by Rufus' intoxicating poem that combines Welsh and English.
That evening, we all did a five minute reading in the library. My roommate and I were the hosts with the hopefully entertaining and serious introductions. It was our pleasure to acknowledge this work and these poets. We had a ball. Of course, I wore one of my minor feather headdresses…