"The surroundings will deepen your creativity and sense of wellbeing"
Back in November 2019, Angela Watt came to Tŷ Newydd on the Crime and Thrillers course tutored by novelists Katharine Stansfield and Clare Mackintosh. She also decided to stay for longer on a retreat at Nant, our newly renovated Writers' Retreat Cottage. Here's a blog by Angela based on her experience.
One of the things writers complain about is not having the time or space to devote to their writing. You'll often hear the cry of 'but life just keeps getting in the way.' It's true, it does. If that's the case for you, you might well benefit from a stay at Nant, the lovely retreat cottage in the grounds of Tŷ Newydd. I had four nights here at the end of my course. The cottage is recently refurbished and feels fresh and inviting and there's lots of welsh blankets to snuggle under.  It was perfect to spend time here to reflect on what I'd learnt, to commit to some writing and to kick back a little and enjoy the gorgeous surroundings and countryside.

The joy of staying somewhere like Nant is that it takes you away from all your usual distractions. There are no children to taxi about, no timetable or place to be. It's your rules. Don't want to eat until you've finished working on that last chapter. Fine, so be it. There's no-one else to think about. As well as a table in the main living area, there's also a desk in each bedroom so if you have the urge to start writing at 4 am, you can. You can literally roll out of bed and start.
If you want to gather your thoughts or get to grips with that tricky plot issue, there are some beautiful walks close by, and the small town of Cricieth is also a short drive, or alternatively, you can follow the coast path down to the beach. The cottage is two bedroomed, so it's up to you if you choose to stay solo or invite a friend, perhaps another writing companion to discuss your progress with over a glass of wine in the evenings.
My stay in Autumn treated me to some golden moments, but I'm sure whatever time of year you stay, the surroundings will deepen your creativity and sense of wellbeing. I'd happily return in any season.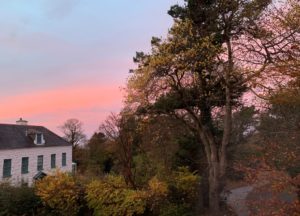 https://littlewritespace.blogspot.com/