Tony's Kitchen: Beetroot Brownies
Taking a break from conjuring up a batch of delicious cookies, and preparing one of his famous homemade loaves, Tony has shares some of his recipies with us. This month's recipe and all future recipes can be found on our blog. Bon appétit!
Beetroot Brownies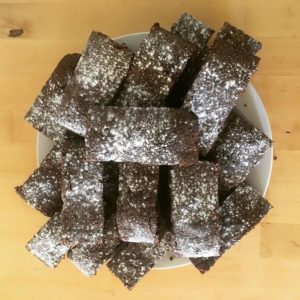 Ingredients
500g of raw beetroot (3 – 4 medium beets)
100g of unsalted butter, plus extra for buttering the tin
200g of 70% cocoa chocolate
1 tea spoon of vanilla extract
250g of golden caster sugar
3 eggs
100g of plain flour
25g of cocoa powder
Method
First things first, grab a pair of rubber gloves – unless you want purple hands. Then, start peeling the beetroots and chop the tails. You need about 400g of raw beetroot. Roughly chop the beetroot and place in a large bowl. Add a splash of water, cover with cling film, and put it in the microwave on high heat for 12 minutes until soft.
Heat the oven to 180C / 160C fan / gas 4. Whilst the beetroot cooks in the microwave, butter the tin (20 x 30cm or small roasting tin). Roughly chop the chocolate and cut the butter into cubes. Sieve the beetroot to get rid of excess water before placing it in a food processor or blender with the chocolate, butter and vanilla. Blend until smooth. The chocolate and butter will melt as you do this.
Place the sugar and eggs in a large bowl and beat with an electric whisk until thick, pale and frothy (it might take up to 2 minutes). Add the beetroot mixture to the eggs and sugar using a large metal spoon. Try and keep as much air in the mixture as possible. Use a sieve to add the flour and cocoa powder then fold the mixture together to make a smooth batter.
Pour the mixture into a tin and bake for 25 minutes until risen. Let it cool throughout before cutting. Enjoy!