Tŷ Newydd Bursaries: Sara Borda Green
Every year, Tŷ Newydd awards around 20 bursaries to help writers to attend a course at Tŷ Newydd. You can read about our bursary fund and how to apply here.
Sara Borda Green was born in Trevelin, Patagonia. When she turned 18, she moved to Buenos Aires to study a degree in Social Sciences. She won the chair at the 2017 Trevelin Eisteddfod with Welsh poetry and a competition for those living in Patagonia at the National Eisteddfod in 2015 for her essay on Patagonia: Past, Present and Future. Sara is currently studying for a MA Degree in Welsh and Celtic Studies at Cardiff University. Her dream is to publish her creative writing work in the near future.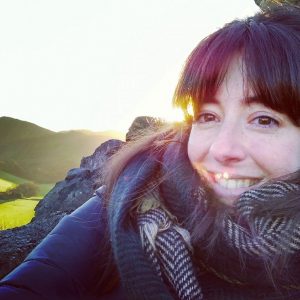 Sara came to Tŷ Newydd for the Creative Writing for Welsh Learners weekend course with Bethan Gwanas and Siân Eirian Lewis in February 2017.
"I heard about Tŷ Newydd through some friends who attended a course there last year. They had a wonderful experience and urged me to go there on a course. I eventually gave in and decided to take the plunge by attending the creative writing for Welsh learners course (and to escape from the capital city for a weekend!).
The bursary was a great help for me to attend the course. I can honestly say that Tŷ Newydd has the perfect atmosphere to undertake any creative writing tasks. I would urge anyone who has an interest in writing to spend some time there.
Personally, the best thing about the experience was that it was during that weekend that I wrote my winning poem for the Trevelin Eisteddfod which won me my first ever chair. Next time I'd like to attend a longer course in order to develop ideas and have further training and advice."
To learn more about Sara, read her answers to our quick questionnaire:
What's your favourite book?
A book that only exists in my mind. A collection of my favorite short stories, including authors such as Julio Cortázar, Liliana Heker, Silvina Ocampo, Abelardo Castillo, Ernest Hemingway, Flannery O'Connor, Samanta Schweblin, Mariana Enríquez, Lleucu Roberts, Mihangel Morgan, and many more.
2. If you could be the author of any book, which book would you chose?
Distancia de rescate (Fever Dream in English) by Samanta Schweblin.
3. If you could choose any three writers, dead or alive, to invite for supper, which three would you chose?
It's hard to pick just three! At the moment, I'd invite Jorje Luis Borges, C. S. Lewis and Mererid Hopwood. But separately as I'd want to discuss different things with each of them.
4. Who or what inspired you to write?
It's simple… I just love reading.
5. If you could be any character from the literary world, who would you be and why?
Lucy Pevensie, to be able to meet all the Narnia characters, and also because of her personality and her adventure filled life.