Tŷ Newydd Course Programme 2020
Over 60 writers from Wales and beyond
to share their expertise at the National Writing Centre of Wales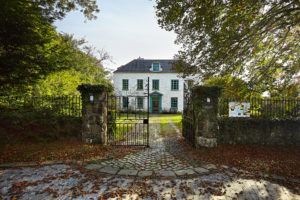 Literature Wales has today launched the Tŷ Newydd Writing Centre's 2020 programme of open courses. Over 60 writers are featured in the programme, including several best-selling authors, laureates, and award-winning poets.
The aim of the programme, which includes a range of weekend and week-long residential courses, is to help emerging and experienced authors develop their writing skills.
Courses will focus on an abundance of poetry tutored by some of today's leading poets, including the 2019 Forward Prize winner, Fiona Benson; fiction – in its short and long form featuring Deborah Kay Davies, Louis de Bernierès and Cynan Jones; creative non-fiction; song-writing; comics tutored by the current Comic Laureate, Hannah Berry; writing for performance; storytelling and more.
Themes will take participants on emotional and literal journeys. On the Writing Wales course Mike Parker will lead walks to explore myths, wildlife and geography; Patrick Jones' Writing to Heal course will look at writing and reading as a way to deal with grief and trauma; and Pascale Petit's wildlife themed course will lead us out into the gardens of Tŷ Newydd with field equipment to track and capture poems as though they were creatures which have a life of their own.
Two courses in 2020 will focus on writing for young audiences, with husband and wife team Helen and Thomas Docherty looking at writing and illustrating for children; and our very own Children's Laureate Wales, Eloise Williams, joining forces with the Young People's Laureate for London, Theresa Lola to focus on poetry and prose for young adults.
Courses at Tŷ Newydd Writing Centre are aimed at both beginners wanting to experiment with their craft, and also experienced writers. Our two Poetry Masterclasses tutored by Gillian Clarke and guest tutors provide opportunities for committed poets to further develop their poetry. Guest readers will visit during courses to inspire writers. This year guest readers include Ian McMillan, Nikesh Shukla and Imtiaz Dharker.
Alongside our tutored courses, four seasonal retreats and a Yoga and Writing Retreat are available to gift writers with the time and space needed to start a new piece of work or to hit a deadline, whilst enjoying the peaceful surroundings and the homecooked meals provided by our experienced resident chef. Guest speakers from the publishing industry, including 2019's Bookseller Agent of the Year, Cathryn Summerhayes, will visit to run one-to-one tutorials and offer advice to those looking to take the next step towards publication.
Running parallel with the 2020 course programme are retreats at Nant – a newly refurbished Writers' Retreat Cottage on site at the Tŷ Newydd Writing Centre. We opened the doors to Nant earlier this year, having redesigned the cottage specially to provide a peaceful environment for writers to retreat from everyday life and concentrate on work in progress.
All courses are available to browse and to book on our website tynewydd.wales, and to celebrate this launch, Literature Wales is offering a 10% discount on all courses, except for the Poetry Masterclasses, until 5.00 pm on Friday 8 November. Use the code '2020programme' when booking.
For further information about Tŷ Newydd or to request a printed programme, contact Literature Wales: 01766 522 811 / tynewydd@llenyddiaethcymru.org