Grow Wild at Tŷ Newydd Garden
Tŷ Newydd, with help from GISDA, have received funding from Grow Wild, a project run by the Royal Botanical Gardens in Kew and supported by the Big Lottery Fund. The funding received will give a new lease of life to one of the gardens on site, where it will be transformed by the young people from GISDA from a derelict patch of land into a lively habitat full of wild plants and flowers.
Grow Wild is a four year programme to encourage people to plant and grow wild native flowers. Grow Wild believe that all of us can do something positive in the spaces where we live; connecting with wild flowers, plants and the places in which they grow; noticing nature; getting active, learning new things and sharing our knowledge and enthusiasm with others.
As part of the project we will be reviving the garden by planting wild flowers, building a new path, pruning some of the trees and foliage and painting the shed. The shed will be transformed into a creative retreat where people can go to be inspired, to write or just to relax. A poem will also be painted on the shed to further enhance the link between the garden and Tŷ Newydd's relationship with words.
Here are a few photos to show how the work is developing. We will be sure to update you again as the garden progresses, and there will be a warm welcome for you to visit the garden when it's finished.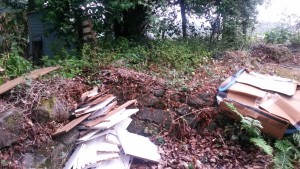 A visit to the recycling plant is needed!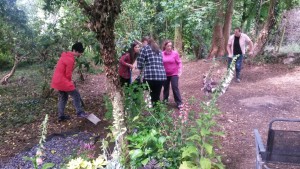 GISDA helpers busy at work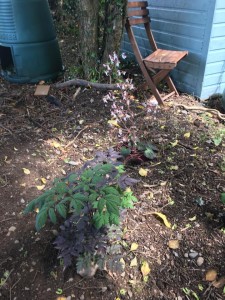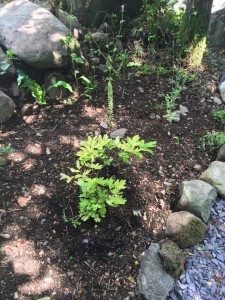 Newly planted wild flowers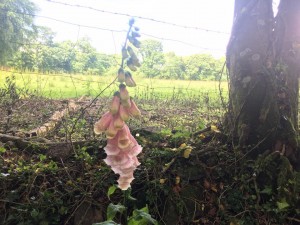 The famous foxglove returns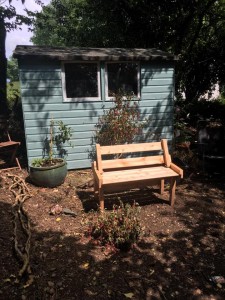 The newly painted shed and an up-cycled bench.
You can learn more about Grow Wilds work here and follow the project on Twitter and on Facebook.