Welsh Rare Bits Part Two by Louise Cole
The time of my life is now drawing to a close. Well, not literally, I hope, just poetically speaking.
I'm on the last day of a Masterclass with Carol Ann Duffy (the UK Poet Laureate) and Gillian Clarke (Welsh National Poet) at Tŷ Newydd, the National Writers' Centre of Wales.
I've never before been on a residential writing course, though I've experienced the good, the bad and the ugly in workshops, seminars and classes, the you-too-can-spend-a-fortune-and-become-in-a-day-a-best-selling-author/poet/playwright/wordsmith (delete as appropriate).
This experience has been in a different league to anything I've ever done before. This has been intellectually challenging and stimulating, in the company of a lovely group of capable women poets ranging in age from 21 to someway past retirement. One of my initial fears was that I'd be the oldest here, surrounded by bright young things, and I'd be left wondering how I'd managed to let the poetry ship sail by without me. I'm still thinking that, but it seems I'm not the only one, and there's hope for me yet, no matter how long of tooth I am.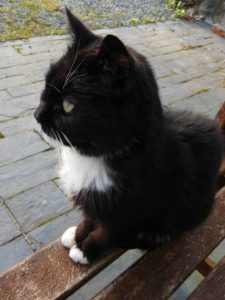 The poetry writing exercises have been eye-wateringly challenging. This morning's session began with Carol Ann reading a poem on, and then leading a discussion about, Tracey Emin's marriage to a stone (Google it – fascinating!). It ended with us writing a poem 'I married a….' with each of us offered a random object to tie the knot with. I got a tree, but I couldn't get past all the puns involved in branching out and leaving, so I failed miserably (although I may revisit that idea some time in the future).
Last night, after another delicious dinner (did I mention how GORGEOUS the food is here?) we took turns to read out anonymous poems, and tried to guess which one of us had done the writing. I got three guesses right – I even recognised my own contribution. There were some jaw-droppingly brilliant poems read out – one of them (not mine, sadly) was immediately identified by Gillian and Carol Ann as a 'competition poem', the sort that goes straight to the top of the judge's pile.
I am humbled to be in such talented company; I've had a ball, but my brain is scrambled now, and I need to find a quiet corner to mull over what I've learned, find the time to put all that good advice into practice.
It's not quite finished yet – there's a little anthology getting printed this afternoon, with contributions from all participants, plus Carol Ann and Gillian.
And tonight, we get to read our favourite, self-penned poems in front of the Poet Laureate and the National Poet of Wales in the Tŷ Newydd Library. We get five minutes each to make our mark. No pressure then…